This map is based on GPS data of the Great Divide Trail.
(Note that trail mapping information changes occasionally and may not be 100% accurate.)
| Map Feature | Description |
| --- | --- |
| | Topographic lines begin to appear at 7x zoom. |
| | Main route of the GDT (red) |
| | Toggle the menu to turn on other map layers: |
| | Guidebook Waypoints (red) |
| | Alternate Routes (orange) |
| | Access Routes and Trailheads (yellow) |
| | Campgrounds, Huts and Lodges |
| | Resupply and Information Centre locations |
| | Trail Condition Bulletins |
| | View larger map (opens new window) |
| | Download KML Google Earth file (from larger map only) |
Special thanks to Ben Mayberry, Li Brannfors, Zdenek Sychrava, River Taig, Dustin Lynx, Dan Durston, Dave Hockey and Brad Vaillancourt for providing mapping information.
---
Other useful map options for the Great Divide Trail:
Ryan Silk's GDT Map Atlas – Ryan has developed a set of topographic maps for the entire Great Divide Trail, and he is offering them for free (thanks Ryan!). The map set is 87 pages at 1:50,000 scale. Google Drive preview function doesn't work due to the large file size of the maps (282MB) so you have to download the entire file. Note that Ryan's maps are slightly out of date and do not include recent changes to the GDT (Field, Howse Floodplain, Moose River, Jackpine).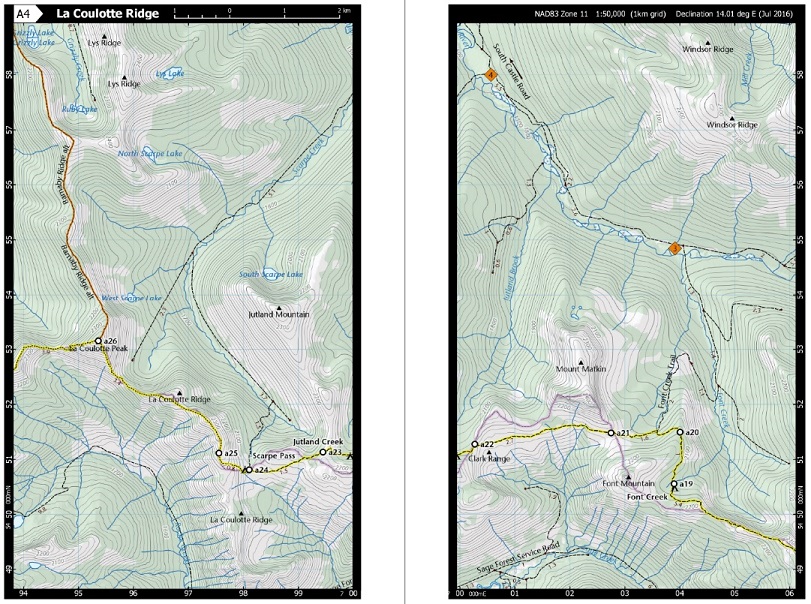 Gem Trek maps are one of the few topographic maps available that have the GDT officially marked. They are updated regularly, full colour, relief-shaded, two-sided, waterproof, 1:50,000, 1:70,000 or 1:100,000 scale, cost $13.95 each, and cover a large portion of the GDT:

| Map Name | Edition | Scale | Guidebook Waypoints |
| --- | --- | --- | --- |
| Waterton Lakes | 3rd | 1:50,000 | a1-a18 |
| Highwood & Cataract Creek | 3rd | 1:50,000 | b27-b31 |
| Kananaskis Lakes | 6th | 1:50,000 | b38-c6 |
| Banff & Mt. Assiniboine | 8th | 1:100,000 | c3-c23 |
| Kootenay National Park | 5th | 1:100,000 | c15-c37 |
| Lake Louise & Yoho | 9th | 1:50,000 | c37-d1 |
| Bow Lake and Saskatchewan Crossing | 5th | 1:70,000 | d4-e7 |
| Jasper & Maligne Lake | 7th | 1:100,000 | e22-e34 |
National Geographic Trails Illustrated maps are full colour, two-sided, waterproof, tear-resistant, 1:100,000 scale, cost about $12 each, and cover the GDT within the National Parks:

| Map Name | Edition | Scale | Guidebook Waypoints |
| --- | --- | --- | --- |
| Glacier and Waterton Lakes National Parks | 2009 | 1:100,000 | a1-a23 |
| Banff South [Banff and Kootenay National Parks] | 2014 | 1:100,000 | c4-c29 |
| Banff North [Banff and Yoho National Parks] | 2014 | 1:100,000 | c23-e15 |
| Jasper South [Jasper National Park] | 2014 | 1:100,000 | e11-f2 |
| Jasper North [Jasper National Park] | 2014 | 1:100,000 | e30-f22 |